One Day
By Jennifer Stoll
One day something very old happened again....
and again. and again. and again.
It had a propensity for reoccurrence,
and though never welcomed, always let itself in.
One day was many days, was every day.
It chipped away here, chiseled away there-
the medium of a sadistic masterpiece-
and over all of the again. and again. and agains,
it withered me down until I was nothing.
BUT
one day is not TOday. One day was yesterday.
And though I don't often take joy in the death of things, of this,
I cracked a smile.
And that "something very old"
is growing very old,
in a poly-cotton, orange jumpsuit,
behind bars and plate-glass windows- mediums
not quite as easy to manipulate as I. .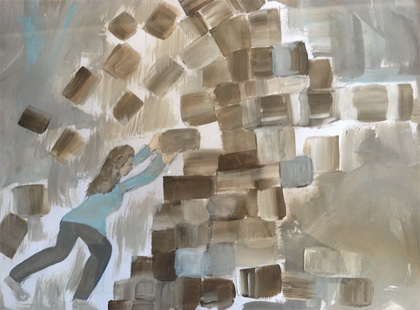 Dear Inner Critic
By Melody P. McCarthy

Dear inner critic I feel you less now,
Such as, in writing this down.
I am not afraid anymore
To be creative.
I love this unveiling
Of this lost part of me.